4 MIN READ
Published 06/01/2020
5 key practices to help manage supply chain risks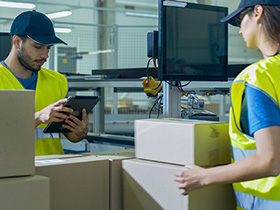 Today's supply chains are complex and can be difficult to manage — even in the best of circumstances. So, when disrupters such as natural disasters, cyberattacks, pandemics, equipment breakdowns, and supplier delays occur, managing risks that could significantly impact your business' supply chain becomes even more challenging.
Recent events stemming from the spread of the novel COVID-19 virus demonstrate the widespread effect disruptions can have on companies and their supply chains. According to a recent survey, 94 percent of the Fortune 1000 saw coronavirus supply chain disruptions. In addition, social distancing mandates caused many businesses worldwide to close or downsize their operations.
Whatever the cause, what remains clear is that breaks in the supply chain affect nearly all industries. Having a proactive strategy that closely manages all supply chain partnerships, as well as the company's own operations, is critical to help keep your supply chain running smoothly.
The benefits of supply chain risk management
Ensuring the continuity of your business depends on its resilience during a major disruption and how quickly it can resume operations. Companies with an established plan on how to best mitigate supply chain disruptions will find themselves in a better position to pivot successfully when responding to specific crisis-related events. Key benefits of proactive supply chain risk management include:
Early detection of a potential crisis event
Continuity in production and deliveries
Quicker response times to help minimize profit losses and maintain business operations
Better safeguarding of a company's good reputation and customer following
Improved transparency in supplier transactions and tracking product journeys
Verification of secondary sourcing when delays or quality may be in question
A competitive boost in market share when a common risk occurs
A more structured approach for minimizing potential supply chain disruptions
Here are five supply chain risk-management practices that could help manufacturers and distributors minimize potential supply chain disruptions:
Create a formal business continuity plan.
A business continuity plan is a system of prevention of and recovery from potential threats to a company. Simply put, a plan helps businesses minimize supply chain disruptions during a crisis by assisting them in a quicker recovery time to resume operations after a disaster, including a hurricane, fire, pandemic, or other event. Creating a business continuity plan typically involves:

Assessing your geographic area and operations to identify possible interruptions, including technological disruptions such as cyberattacks and data breaches
Establishing alternatives for business operations, such as identifying temporary facilities, backup suppliers, additional staffing, and alternative routes for shipments; and gaining access to vital equipment
Creating a cross-functional team to help facilitate recovery
Securing important data, such as customer and employee records, business contracts, and financial information
Establishing procedures for communicating with your employees, customers, the media, and community and government agencies

Maintain relationships with supply chain partners.
A healthy supply chain depends on nurturing and maintaining relationships with your supply chain partners (as well as their partners). This involves getting to know your suppliers, manufacturers, distributors, and any other partners on your supply chain you work with and the role they and other parties play in your company's network. Questions to ask about your supply chain suppliers may include:

What means of safety benchmarks and specifications do they use in product design and development?
Do they adhere to U.S. safety codes and consensus standards? Obtain verification, especially from those partners that supply critical products or components.
What documentation can they provide of quality control processes to verify the function and safety of the final product?
Can they fulfill your operational needs to meet production expectations? Do they have business continuity plans in place?
How do they manage cybersecurity risks and protect intellectual property?

Establish a contingency plan in key areas.
In a crisis, having access to extra inventory and equipment, as well as a diversified pool of suppliers, is critical. Considerations for contingency planning should include:

Diversifying suppliers across geographic regions and not having to rely solely on overseas sources that could be impacted by catastrophes or political instability
Creating relationships with alternative supply chain partners, including suppliers, distributors, and transporters, so you have a readily available source of replacement parts, equipment, and inventory
Establishing a strategic spread of multiple facilities in different geographic locations to provide support to affected operations
Confirming that network access is secure and information is backed up regularly

Put product safety and quality control at the forefront.
Making product safety a business priority helps protect customers and your business against product liability lawsuits and product recalls — major disrupters to your supply chain and operations. This should include:

Conducting regular evaluations to qualify and select your suppliers
Establishing a written design review process that identifies relevant safety codes, quality specifications, and consensus standards that should be met by all supply chain partners
Discussing with your customers design specifications and final applications of products
Conducting regular quality control audits or independent product testing to ensure quality is consistent with expectations and that no safety issues are present
Reviewing instructions, user warnings, maintenance manuals, and other marketing, sales, and technical communications used in conjunction with each product
Retaining all documentation of processes and decisions throughout the product life cycle
Creating a checklist of all product recall procedures to allow affected inventory to be identified and removed from the supply chain quickly

Work with your risk-management partners to mitigate exposures.
It's vital for your company's risk-management, financial, and legal teams to establish formal contracts with all supply chain partners and to review your risk-management program with your insurance broker and third-party administrator regularly. Key areas to address include:

Reviewing details in partner contracts that establish specific terms and conditions, roles, responsibilities, and service expectations, and assigning liability appropriately
Defining the process for resolving known or suspected product safety risks and clarifying which parties will respond to a product defect event and in what manner
Verifying that all supply chain partners use contractual provisions that protect your business from negligent acts or defective supplies they provide you. Be sure to get legal review of contract language and match insurance coverage with your exposure
Reviewing the company's and supply partners' insurance programs to ensure limits are appropriate and to identify potential gaps in coverage
Positioning your supply chain for the future
Maintaining the delivery of essential goods and services and preventing losses in your business can be a time-consuming task. As the global supply chain widens and becomes more complex, businesses will have a stronger need for risk-management best practices to help them identify issues quickly and to ensure that the proper systems are in place to better respond and recover.
Want to know more about how Helmsman Management Services could help protect your brand, operations, and relationships you've worked so hard to build? Let's talk.
This website is general in nature and is provided as a courtesy to you. Information is accurate to the best of Helmsman Management Services' knowledge, but companies and individuals should not rely on it to prevent and mitigate all risks as an explanation of coverage or benefits under a policy or service contract. Consult your professional advisor regarding your particular facts and circumstance. By citing external authorities or linking to other websites, Helmsman Management Services is not endorsing them.