Workers Compensation - Solutions - Helmsman
Workers Compensation
We blend advocacy, expertise, and innovation to reduce the impact of costly injuries on your employees and your business.
Our flexible, holistic approach to workers compensation stands out. Our goal is to always empower our employees to make your people and business whole again. To achieve this, we give our employees access to extensive resources, unmatched expertise, and innovative solutions – and we encourage compassion.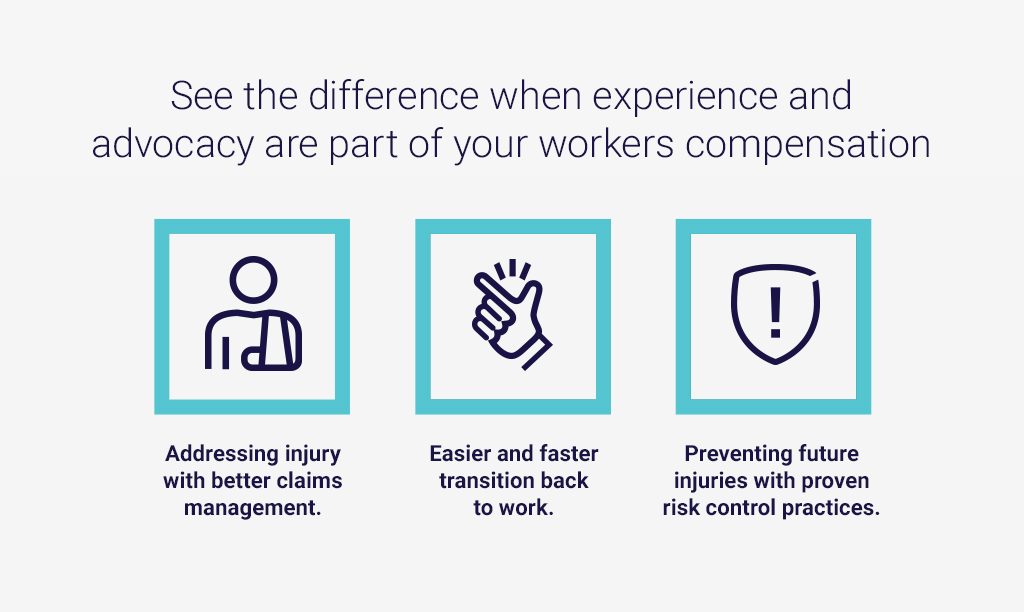 People and Culture Power our Difference
Compassion and capability.
We understand that getting injured is stressful for both your employees and business. We work hard to make the process as clear and simple as possible. By showing compassion, creating a personalized plan for recovery, and taking time to explain the process in a straightforward, easy manner, we make sure your people feel cared for. By making it easier for your employees to focus on their recovery, they'll be able to get back to work faster.
Innovation.
We're constantly investing in new solutions that help personalize the claims experience from day one. From early intervention strategies and SmartVideo to telemedicine and real-time pharmaceutical resources, innovation helps us find new ways of doing business that deliver better results and ensure that your workers feel connected and informed throughout their recovery.
Industry-leading resources.
Whether you are looking for best practices to mitigate workplace injuries or struggling to improve access to quality care during recovery, our preferred medical networks and deep risk control resources can help keep your business running. From our extensive managed care programs to analyzing your data for actionable insights, our experts keep their fingers on the pulse to provide solutions that make a difference.
A holistic approach.
With compassion and expertise, we look at the whole picture, where others focus only on the injury. Our human approach helps employees feel cared for – and whole again.
5 Goals We Target to Achieve Better Outcomes
Goal 1:

Returning injured workers to productive work significantly sooner.

Goal 2:

Less workplace disruption.

Goal 3:

Lower overall claims costs and medical expenses.

Goal 4:

Employees empowered to come back to work.

Goal 5:

Proactive litigation management, strategically achieving results.
Connect today
"We strongly believe that taking a more holistic and human approach produces better claim outcomes for both injured workers and their employers."