2 MIN READ
Published 06/01/2020
How telemedicine can support injured workers and add value in workers compensation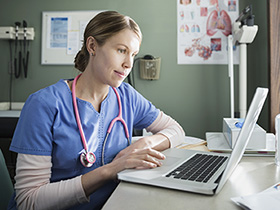 With one in 10 workers compensation claims being suited for telemedicine, learn more about how this technology can benefit injured workers in their recovery. 1
Today, many companies' group health programs offer telemedicine as an alternative way for employees to access medical services. And in the current environment where pandemics, severe weather, and other disruptions can limit access to in-person care, this technology is becoming even more important and prevalent. In the workers compensation claims management space, telemedicine is an option for helping injured workers receive treatment so they can recover and return to work.
The benefits of telemedicine for injured workers include:
Convenience: injured employees can get treatment for minor injuries that do not require an in-person physical exam, such as contusions and sprains, and can also receive rehabilitation services. In addition, treatment can be available at any time, including holidays, weekends, and late nights.
Efficiency: with telemedicine, employees have rapid access to the care they need, from home or in the workplace, which translates to no traveling and less waiting. On average, wait times can be reduced from two days to hours with telemedicine.2
Easy to use: employees can access services using familiar technology that they already know and understand, via phone, laptop, or desktop.
If your business is considering the use of telemedicine, you and your employees can feel secure knowing that their information is protected. Telemedicine visits comply with the same high patient privacy standards as ordinary medical visits and personal information is transmitted securely.
Offering care via telemedicine is part of our approach to advocacy and reducing the anxiety employees may feel after suffering workplace injuries. Because at Helmsman Management Services, we believe that a better experience translates into better outcomes for employees and employers.
Contact Helmsman Management Services to learn more about our solutions and services and download the PDF below for information to help injured workers become more comfortable with using telemedicine.
1 Helmsman Management Services internal data, 2019
2 Helmsman Management Services Medical Data Analytics, 2016-2019
This website is general in nature and is provided as a courtesy to you. Information is accurate to the best of Helmsman Management Services' knowledge, but companies and individuals should not rely on it to prevent and mitigate all risks as an explanation of coverage or benefits under a policy or service contract. Consult your professional advisor regarding your particular facts and circumstance. By citing external authorities or linking to other websites, Helmsman Management Services is not endorsing them.