A change for the better: managing ESG-related risks - Helmsman
A change for the better: managing ESG-related risks
Learn how your business can mitigate ESG-related risk

Consumers expect businesses to be authentic in their commitments to environmental, social, and governance (ESG) policies, so much that ESG has become a reflection of a business' core values. The reality is that if businesses make promises they don't keep, the consequences can be steep – on both reputations and bottom lines.
Here, we'll look at the relationship between ESG claims and risk, and how businesses can ensure their intentions and actions hold up to consumer scrutiny.
The high cost of doing nothing
Environmental and social consciousness have become a table-stake requirement for many consumers who want to know that businesses are transparent and showing their progress on key ESG issues. Making empty promises around ESG can result in consequences for a business – both financially, as well as for its brand.
The following are specific examples of how companies might be affected by a lack of ESG initiatives:
Businesses that don't follow SEC climate change disclosure mandates, which state that companies must be transparent about their carbon footprint, may face both legal and financial repercussions.
Businesses that allegedly cause harm to the public may face public nuisance lawsuits. For example, we've seen these types of lawsuits brought against companies that produce tobacco. Today, however, experts suggest that businesses could also be sued for negligence that results in a detrimental impact on the environment. 
There are less obvious financial repercussions for companies that don't prioritize ESG – like low employee retention rates or losing customers to more environmentally or socially conscious competitors. For example, consumers and investors alike have rallied around companies like Unilever, which recently committed to pay its employees a $16 minimum wage.
Today, consumers want more than temporary solutions or half-hearted efforts – they want to see permanent and systemic changes in how business is done. For businesses, relationships with vendors, partners, and investors are possible areas of scrutiny that can open them up to potential liabilities. While it takes more effort to ensure compliance in today's environment, companies that go the extra mile will reap the benefits.
How your business can better manage ESG-related risks
While ESG is still in its early years, customers want to see that businesses are engaging in a transition toward more ethical business practices, and now is the time to start making proactive changes.
The following are five components for building an effective ESG program. While they may seem like common sense, the challenge lies in a business successfully implementing them across the organization.
Have senior leadership commit to ESG as a core initiative. A comprehensive map isn't needed to start your company's ESG journey — only a clear and decisive commitment that should start with the board of directors and the C-suite.

Understand the leading exposures without ignoring others. Don't inadvertently focus ESG programs on the obvious exposure at the expense of others. For example, a manufacturing business may address E but not S, despite the business having a large impact on the community in which it operates. Make sure you are looking at things holistically as issues tend to be interconnected across E, S, and G.

Build a strong structure to create engagement throughout the company. Your company's management sets the tone and expectations for a successful ESG program, but fully engaged employees drive results. A dedicated unit is helpful in developing and managing a strategic ESG plan, engaging employees to craft and communicate policies, tracking and reporting results, and suggesting modifications to the plan.

Break down silos and geographies for a consistent approach. This should also include operations that can impact the broader community. For example, businesses should include ESG considerations when selecting vendors and philanthropic partners, as well as in all advocacy efforts.

Maintain ongoing employee communications that set expectations, give direction, and are transparent when it comes to reporting. In addition to understanding the importance of ESG as a driver of the company's success and how it will drive day-to-day decisions, youremployees at all levels need to know their role in the ESG journey. Along the way, they should understand that there will always be more to accomplish.
There has never been a more important time for your business to take a closer look at its vendors, suppliers, and partners to ensure they are all working with sustainable and socially responsible businesses up and down the supply chain. You should also look at your internal hiring and work practices and anticipate a high level of transparency with your customers.  
Conclusion
As your business transitions into a more all-inclusive workplace, it is to your benefit to work with your third-party administrator (TPA) to evaluate potential liabilities, prepare for future risk, and understand common elements of successful ESG journeys. By sharing your company's ESG strategy with your TPA and broker, you can have productive conversations about risks and opportunities as you align your mission with today's most important social and political issues.
This website is general in nature, and is provided as a courtesy to you. Information is accurate to the best of Helmsman's knowledge, but companies and individuals should not rely on it to prevent and mitigate all risks or as an explanation of coverage or benefits under an insurance policy. Consult your professional adviser regarding your particular facts and circumstance. By citing external authorities or linking to other websites, Helmsman is not endorsing them.
Staying ahead of social inflation risks
Learn how your business can mitigate social inflation risks

More than just another buzzword, social inflation is when societal and legal trends help to drive more, and bigger, lawsuits that can have a big impact on businesses. And, with civil courts having to work through 24 months' worth of cases postponed by COVID-19, now is a good time to reassess your risk-management strategy.
What's driving social inflation?
The following key issues are helping to contribute to social inflation's impact, which continues to put pressure on businesses' liability risk and costs.
Corporate mistrust. According to a recent Gallup poll, 48 percent of Americans have a negative view of big business and 75 percent say they have some, very little, or no confidence in corporate America. These adverse views can lead to juries who are in favor of claimants versus companies as a way of seeking social justice. Businesses need to be aware of the potentially unified climate in the jury box — particularly if their case involves social and political issues. 

Delayed court cases. COVID-19 reshaped courtroom operations for nearly two years, resulting in a 30 percent increase in the backlog in civil court cases. While this delay doesn't directly contribute to social inflation, many cases may see much larger payouts than they would have two years ago because of this growing trend.

A strategic plaintiffs' bar. A well-organized and sophisticated bar has the resources to drive up damage awards. This, and a strong track record of appealing to jurors' emotions, can create extraordinary levels of empathy for plaintiffs. This could have jurors setting aside the facts of cases to do what they feel is right. Unfortunately, this can translate into larger verdicts.

Increase in litigation financing. It has become increasingly common for third-party investors to provide funds to plaintiffs to pursue lawsuits against companies in return for a share of the potential proceeds. This funding has the potential to entice claimants into pursuing litigation where they may otherwise have settled, as well as prompting attorneys to request higher monetary damages.

A physician's letter of protection. A letter of protection is sent by a plaintiff's attorney to a physician, hospital, or other medical professional. If the plaintiff is treated by a physician outside their health insurer's network under a letter of protection, the plaintiff can claim higher damages based on medical expenses billed, because there is no health insurer payment involved. This may inflate the value of a plaintiff's request for damages as it gives the treating physicians an interest in the litigation.
3 strategies for mitigating social inflation risks
Stay informed. Keeping up with evolving societal and legal trends plays a key role in helping businesses to better manage risks and the potential impact on exposures and claims.

Engage with the right team of experts. In a claims situation, having the right lawyer, adjuster, and insurance company on the case from the beginning can help move claims quickly to resolution.

Be prepared. It is important for businesses to be proactive and prepare for whatever resolution strategy they may be in for. For example, running through all possible scenarios to gain meaningful insight into how a jury may view a case allows you to adjust your defense accordingly for the best possible outcome.
Conclusion
A business may not be able to control the course of claims once they get into litigators' hands; however, it can minimize the risk of loss events by reinforcing a culture of safety and continuing to work with its third-party administrator (TPA) to understand the ever-changing landscape. Keep in mind that your TPA knows what impacts your industry and can help you to develop suitable plans.
This website is general in nature, and is provided as a courtesy to you. Information is accurate to the best of Helmsman's knowledge, but companies and individuals should not rely on it to prevent and mitigate all risks or as an explanation of coverage or benefits under an insurance policy. Consult your professional adviser regarding your particular facts and circumstance. By citing external authorities or linking to other websites, Helmsman is not endorsing them.
Navigating the labor shortage: 5 tips for businesses
Learn how businesses can attract and retain talent.

Last year, U.S. businesses added more than 4 million open jobs — many of which won't be filled. It's clear that our nation is facing a labor shortage due to many Baby Boomers deciding to retire early as a result of COVID-19. From restaurants and retail to manufacturing and transportation, today's labor shortage is impacting virtually every industry. However, regardless of the reason behind the labor shortage, the simple fact is that fewer workers are electing to join the workforce at levels sufficient enough to meet the needs of many businesses.
The growing labor shortage has forced many employers to increase the workload for existing employees, along with hiring untrained workers to help fill positions. As a result, workplace injuries have increased, as well as liability risks for on-the-job mistakes. There are also accompanying property and auto exposures that can result from untrained workers misusing equipment or causing accidents.
Mitigating these and other issues begins by understanding what your workforce needs to retain good employees and to keep business moving forward. For example:
5 tips for attracting and retaining talented workers
Beyond reduced productivity, worker shortages can also lead to burnout, poor retention, unplanned absences, and even injury — which is why it's critical for business to address this risk area sooner rather than later.
Provide workplace incentives. The labor shortage has created an increase in employee wages. As a result, a key part of attracting and retaining workers is to offer the pay and benefits they need to thrive. COVID-19 has also prompted many workers, particularly parents, to seek out employers who can offer flexible work options and more comprehensive health and retirement benefits. If your business can offer these benefits, you'll be less likely to experience the strain of the labor shortage.

Attract new talent in untapped areas. Businesses struggling to find talent should consider expanding their talent pool by exploring previously untapped labor sources. For example, industry training programs and apprenticeship programs can connect businesses to young, skilled talent. Businesses might also consider nontraditional sources, such as hiring formerly incarcerated workers and people in rehabilitation programs who may typically experience barriers to entering the workforce.

Relax hiring criteria. Being more flexible with hiring requirements, such as education or experience, may increase the number of applicants for a given position. For example, why not consider hiring non-native English speakers, or workers with past convictions? Taking steps such as increasing onboarding time, pairing new employees with experienced workers, or offering employee incentives for additional education can help prepare employees for their new roles and responsibilities. Providing additional training is another key piece of risk mitigation.

Provide training. We already touched on the fact that hiring workers with less experience can bring additional risk. However, you can help mitigate risk by ensuring that new hires receive adequate training and that they understand all safety processes and procedures. Additionally, you may want to consider investing in diversity, equity, and inclusion training if you have diversified your hiring as a result of the worker shortage. Employees at every level should be prepared to address language and cultural issues that may arise as new employees are onboarded.

Review your risk-management program. Whether you're hiring new employees or experiencing a staffing shortage, today's current environment requires employers to revisit and refocus their strategic risk-management programs. Consider working with a third-party administrator (TPA) who can help recommend strategies to help protect workers and overall operations.
Conclusion
The best way for businesses to navigate a tight labor market is to keep the existing talent they already have, through retention and training programs. By giving workers the knowledge and support they need to be successful in new and existing roles, companies can avoid unfilled positions — and the risks associated with an unprepared or uninformed workforce.
This website is general in nature, and is provided as a courtesy to you. Information is accurate to the best of Helmsman's knowledge, but companies and individuals should not rely on it to prevent and mitigate all risks or as an explanation of coverage or benefits under an insurance policy. Consult your professional adviser regarding your particular facts and circumstance. By citing external authorities or linking to other websites, Helmsman is not endorsing them.
U.K. insurers can now access Helmsman Management Services, a leading U.S. third-party administrator, for their customers with U.S. operations
Helmsman's deep expertise and resources are now available to help U.K. insurers better control legal and claims costs in the U.S.

Boston and London (September 22, 2021) – London Market insurers with exposure to US Property & Casualty and Specialty lines can now access the award-winning claims and legal management services of Helmsman Management Services (Helmsman), a third-party administrator (TPA) wholly-owned by Liberty Mutual Insurance, which has recently been given Delegated Claims Administrator status by Lloyd's of London.
Helmsman, the sixth largest third-party administrator in the US and the only one supported by the strength of a Fortune 100 company, helps companies across the US better control the cost of general liability, property, commercial auto, specialty, and workers compensation claims.
"Helmsman provides an alternative to the stable of US TPAs available to UK insurers," said Helmsman VP and Managing Director Karen Reading. "Helmsman leverages its deep experience in the US market to help UK insurers better manage the cost of risk for their US clients.  For more than 30 years, it has produced excellent outcomes through sophisticated claims and legal management supported by best-in-class services, industry leading technology and dedicated claims professionals."
Liberty Specialty Markets' Chief Claims Officer Mike Gillett appreciates the value the TPA provides to several of its clients with US exposures. "From sophisticated analytics to deep legal expertise, Helmsman has the resources and talented claims professionals to help our clients effectively manage their US insurance costs. They bring the right resources to each claim at the right time to improve its outcome."
Information on the key challenges and trends facing the US TPA market can be found on Helmsman's website.
ENDS
Enquiries:
Richard Angevine
T:617 833-0926
E: richard.angevine@libertymutual.com
Notes to editors:
About Helmsman Management Services
Helmsman Management Services is Liberty Mutual's wholly owned third-party administrator (TPA). It blends tailored programs, industry-leading expertise and seasoned claims professionals to produce better claims outcomes.
About Liberty Specialty Markets
Liberty Specialty Markets offers specialty and commercial insurance and reinsurance products across key UK, European, Middle East, US, Bermuda, Asia Pacific & Latin America markets. We provide brokers and insureds with a broad product range through both the Company and Lloyd's markets and have approximately 1,900 employees in approximately 60 offices.
About Liberty Mutual Insurance
At Liberty Mutual, we believe progress happens when people feel secure. By providing protection for the unexpected and delivering it with care, we help people embrace today and confidently pursue tomorrow.
In business since 1912, and headquartered in Boston, Liberty Mutual Insurance is the sixth largest global property and casualty insurer based on 2020 gross written premium. Liberty Mutual Insurance ranks 71st on the Fortune 100 list of largest corporations in the U.S. based on 2020 revenue. As of December 31, 2020, we had $43.8 billion in annual consolidated revenue.
Liberty Mutual Insurance employs over 45,000 people in 29 countries and economies around the world.  We offer a wide range of insurance products and services, including personal automobile, homeowners, specialty lines, reinsurance, commercial multiple-peril, workers compensation, commercial automobile, general liability, surety, and commercial property.
OneVoice: Encouraging a recovery partnership through inclusive language
Our commitment to excellence shines through.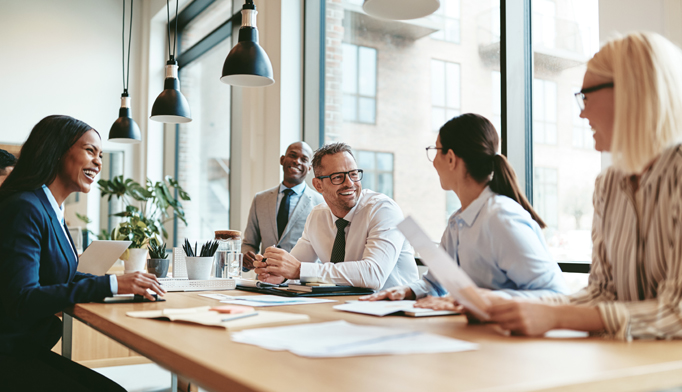 Ensuring that injured worker advocacy is a critical component of workers compensation claims management continues to be the cornerstone of our philosophy here at Helmsman. In managing more than 300,000 workers compensation claims per year, our team saw a great opportunity to improve and clarify the claims experience for injured workers and their employers through our new initiative, OneVoice.
With OneVoice, we've identified insurance jargon that might seem confusing or combative to an injured worker – language that could ultimately contribute to higher litigation rates, delayed returns to work, or prolonged treatments.
OneVoice aims to support injured workers by replacing jargon or complex language with inclusive, empathetic, and easy-to-understand terms that encourage a recovery partnership.
Bringing OneVoice to life for our claims professionals
But how do you bring an idea like this to life for 2,000 claims professionals? Through an all-hands-on-deck effort that included:
A 16-week phased rollout
An e-learning series of six videos, illustrating "what good looks like" for claims professionals
Steady communication from all levels of leadership, reinforcing OneVoice language and its benefits to injured workers and their employers
2,400 brief stand-up meetings that gave our teams the opportunity to share and practice key words and phrases
A 70-phrase online resource of the most frequently used phrases that could alienate an injured worker.
Through this program of e-learning, team discussions, and online resources, our claims professionals have enthusiastically embraced OneVoice, knowing they now have another valuable skill to help them connect and communicate with injured workers.
"Small changes in language resulted in big mindset changes, which improved recovery and return to work by more fully engaging injured workers," notes Wesley Hyatt, Senior Vice President, Workers Compensation Claims, Helmsman Management Services LLC. "The way you treat an injured worker — including the words and phrases you say — can have a material impact on the life of the claim. Plus, the workers compensation process can be scary and confusing for injured workers, who are naturally concerned about their health, recovery, and career."
These sentiments were echoed by many injured workers who remarked that the new communication style was reassuring and empathetic during a vulnerable time in their lives.