4 MIN READ
Published 10/09/2020
WC claims management during COVID-19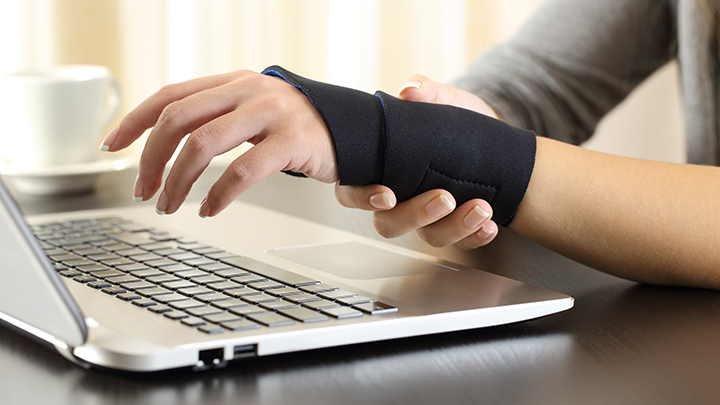 As stay-at-home orders, social distancing, and remote work have become commonplace in response to the COVID-19 pandemic, many businesses have shifted operations to remain functional and help keep their employees safe. 
But for employees suffering from work-related injuries, in addition to grappling with the normal stressors of recovering from an injury, the pandemic has raised several other pressing concerns:
How will I get the care I need?
Will I be able to receive needed medication and treatments?
Will my benefits be impacted?
Will I fully recover from this injury?
Will I be able to return to my job at the end of this?
Amid today's unprecedented circumstances, supporting these employees so they can continue to receive care and focus on recovery is a key part of maintaining productivity and an engaged workforce.
Like our customers, we at Helmsman Management Services also shifted quickly so our claims teams could continue to be effective and injured workers would feel supported. Claims specialists have vital roles in helping to ease feelings of uncertainty, says Carolyn Turpin, vice president and regional manager for the West, Helmsman Management Services.
"It's critical to recognize that this kind of upheaval has been a highly sensitive area for injured workers," she says. "In order to ease worries and help workers through, it's imperative to emphasize that recovery is more than return-to-work – it's about their emotional well-being, too."
The ongoing COVID-19 pandemic highlights the importance of a robust injured-worker advocacy approach to workers compensation claims management. Here are three ways our advocacy efforts help drive positive outcomes for injured workers and customers.
1. Foster engagement and anticipate needs
In the beginning of the pandemic when there was a shift to working remotely, some injured workers worried about how interactions with claims specialists might change their experiences.
For example, most injured workers typically receive their claims payments by mail – a practice that could be disrupted due to the pandemic. At the onset of the pandemic, our claims specialists mitigated concerns by contacting injured workers to check-in, validate their circumstances, and present options available to them if needed, such as activating electronic payments or home prescription delivery, Turpin explains. That proactive outreach gave employees peace of mind that they could quickly receive their benefits without delay, while also helping them feel more positive toward their employers.
"Even if we weren't in the office, we wanted injured workers to know that they could get in touch with us and that necessary resources and options were available to them," Turpin says.
2. Prioritize worker well-being
Thinking outside the box about what might help an injured worker – both physically and emotionally – also takes on new meaning in today's situation.
As a result of COVID-19, many injured workers are managing more than their injuries and recoveries. "Some families are struggling to balance childcare and work. Others are home schooling or caring for ill loved ones," explains Turpin.
With the pandemic leaving more people feeling isolated and stressed, it's never been more critical to approach workplace injury-related absences with an empathetic point of view, Turpin says.
For claims specialists, this approach means putting workers' well-being first — by helping to curb feelings of unrest brought on by added stressors, simplifying procedures, and engaging in ways that are most convenient. Beyond phone calls and emails, web portals, educational videos, and other tools can help explain and expedite the process – and are available at the worker's own time and pace.
The takeaway: Every outreach should reassure injured workers that their claims and clinical teams are working in their best interests to prioritize their care and recovery, Turpin says.
3. Navigate care solutions
With many physicians, therapists, outpatient centers and hospitals limiting the number of patients they can see for routine appointments and non-emergency treatments, injured employees may face access-to-care issues. In lieu of in-person care, the use of telemedicine and tele-rehabilitation services is proving to be a valuable alternative to treat minor injuries and provide virtual physical therapy.
While such technologies aren't new to workers compensation, the during the shutdown at the beginning of the pandemic dramatically spurred their use as a claims-management strategy. Our data shows, for example, that telemedicine visits increased 5,000% between March and May of this year.
"As part of the claims management process, it's vital for injured workers to continue their care and work towards recovery," says Turpin. "And telemedicine kept these critical services going during the pandemic."
Investing the time and resources to promote injured worker advocacy gave our claims team the framework to continue to provide excellent care and deliver positive outcomes under tough circumstances. "We believe and see that when you treat injured workers with compassion and humanity, better results are achieved for the worker and the employer," Turpin said. The outcomes from the COVID-19 pandemic show that the injured worker advocacy strategy works and will continue to show results. To learn more, contact us today.
This website is general in nature and is provided as a courtesy to you. Information is accurate to the best of Helmsman Management Services' knowledge, but companies and individuals should not rely on it to prevent and mitigate all risks as an explanation of coverage or benefits under a policy or service contract. Consult your professional advisor regarding your particular facts and circumstance. By citing external authorities or linking to other websites, Helmsman Management Services is not endorsing them.