5 MIN READ
Published 11/14/2019
Tech with a personalized touch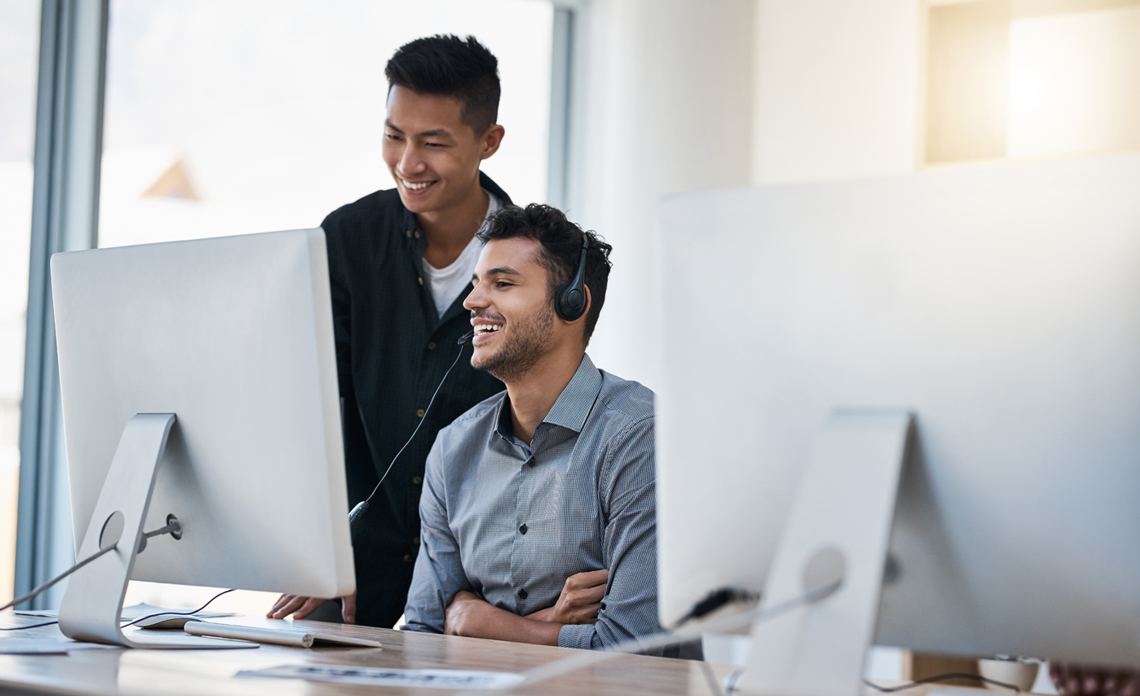 Consider the worker behind a workers compensation claim. Too often, physical injuries may be compounded by emotional anxiety and even confusion as workers do their best to manage their way through a potentially long and stressful process. 
Few occasions demand more of a personal touch. Emerging technology enabled by today's widespread broadband connectivity may be the most promising way to deliver a more compassionate claims management process. 
"A newly sharpened focus on the injured worker and the increasing use of technology to identify trends and to simplify and expedite certain elements of the claims process are having a major impact on the management of workers compensation claims," says Wesley Hyatt, Senior Vice President, Workers Compensation Claims, Helmsman Management Services. 
Consider the following five ways that recent technological advances can help us address a familiar issue: accelerating recovery by careful attention to worker needs. 
Begin with bots.
To the injured party, "waiting" means "worry." Anything the claims management team can do to accelerate and streamline the intake process automatically removes much of the initial anxiety that comes with claim submissions. 
Today, web robots or "bots" can reduce work for all parties involved, initiating the claims process digitally once a workers compensation claim is filed. Bot automation not only reduces intake time from hours to minutes, it liberates claim professionals from repetitive administrative tasks so that they can focus on more important, more personal interactions with injured workers. 
Reduce confusion with better communications.
For most injured workers, the claims process is unwelcome – a new and unfamiliar world with few or no road maps for guidance. 
Adjusters can now provide guidance for the claims road ahead. Helmsman has developed SmartVideo, a program that creates a brief, personalized video for injured workers that explains: 
What to expect during the claims process

 

How to contact their claims

professional

 

Claim-specific details, such as their claim number, claims status, and payment information

 

Available resources, including pharmacy program information and how to look up medical providers
By communicating more effectively at the initiation of the claims professional-worker relationship, both parties can proceed on a common ground of knowledge and confidence. 
Make connections to coordinate care.
Once the relationship between the injured worker and the claims professional has been established, a variety of other parties – including doctors, facilities, pharmacies, and other care givers – must be integrated into the care coordination plan. 
Network coordination is always important, but during a crisis, such as a loss of power or transportation disruption, which can impede access to care, coordination becomes critical. By electronically connecting all parties, managers can build flexibility into recovery. Should access be denied in one area, coordination on a digital network can reassign treatments to available resources, or fulfill prescriptions from unaffected pharmacies, allowing progress to continue with minimal disruption. 
Fulfilling claim payments consistently.
A catastrophic event, such as a weather-related disaster, can not only interrupt the continuity of care, but delay or prohibit the distribution of compensation checks – exactly when the intended recipients need them the most. 
That's why some third-party administrators (TPAs) such as Helmsman are supplementing the usual delivery of checks by mail with electronic funds transfer (EFT). When a mail interruption is anticipated, administrators can switch from mail to EFT, allowing employees to receive the funds they urgently need without delay. "It's important," says Hyatt, "to partner with a TPA who works collaboratively with their individual legal teams to break down the barriers that could prevent employees from receiving their workers compensation checks – including on-boarding technology to know when to move individuals on EFT in a crisis." 
Preventing opioid abuse.
Although the healthcare industry has become more adept at intercepting potential opioid abuse, addiction remains a challenging concern. To address the problem, many TPAs are incorporating the U.S. Centers for Disease Control and Prevention (CDC) guidelines into their claims management programs.
Technology complements claims professional training by automatically "flagging" behaviors that could indicate a contradiction to the CDC guidelines; an unsuitable prescription, for example, would trigger an alert, encouraging providers to discuss the situation in-depth and suggest more appropriate treatment alternatives. "Since implementing CDC guidelines," Hyatt says, "we have experienced a 9% reduction in patients being prescribed with opioids."
It's about doing the right thing at the right time
Technology is not a substitute for personal communications, but an important supplement that can save time, reduce anxiety, and accelerate recovery. Hyatt summarizes technology's role succinctly: "When it comes down to it, it's really about doing the right thing for the injured worker."
This website is general in nature and is provided as a courtesy to you. Information is accurate to the best of Helmsman Management Services' knowledge, but companies and individuals should not rely on it to prevent and mitigate all risks as an explanation of coverage or benefits under a policy or service contract. Consult your professional advisor regarding your particular facts and circumstance. By citing external authorities or linking to other websites, Helmsman Management Services is not endorsing them.