4 MIN READ
Published 10/29/2020
More courts embrace virtual technology amid COVID-19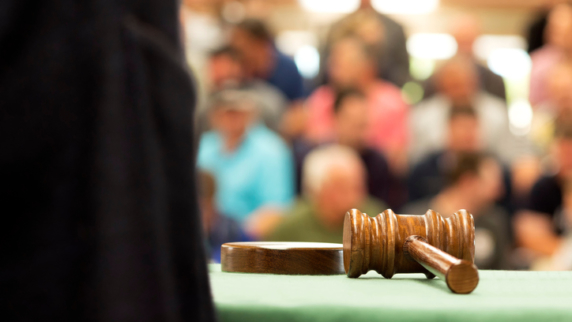 Learn how U.S. courts have been affected by the pandemic and how they are using technology to reopen and address the backlog of cases.
The COVID-19 pandemic continues to impact all parts of industry – including the U.S. court system. As the country begins to reopen and adjust to this "new normal," courts are continuing to use various virtual tools to address the growing backlog of cases put on hold due to the pandemic, and to safeguard public health. The following outlines how the courts have been affected by the pandemic and what steps they are taking to address new and ongoing business.
At the start of the pandemic in early March, state courts responded swiftly by issuing mandates that "non-essential, non-emergency" court operations be suspended. As of September 10, a third of the federal district courts have allowed jury trials to resume, making changes and implementing new policies to keep courtrooms safe. On the state and local level, many courthouses and court facilities have allowed some in-person juries to slowly resume, with most courts planning to continue to use a combination of virtual/remote and in-person proceedings in order to maintain public safety while allowing the justice system to get back to business. 
Since the start of the pandemic, the backlog of civil proceedings on cases filed before and during the period of COVID-19 continues to mount. As states begin to reopen, courts are exploring how to resume operations that include the issuance of jury summonses and the scheduling of in-person jury trials on a staggered court calendar. On June 11, under a phased expansion of operations order, in-person proceedings were no longer strictly limited to critical or emergency proceedings. Specifically, bench trials for criminal and civil proceedings have since resumed, along with trials of misdemeanors, traffic, and petty offenses.
Today, courts are implementing a number of safeguards as they reopen, such as mask wearing in all public areas in the courthouse/courtrooms and maintaining social distancing whenever possible. This has courts addressing how best to accommodate jurors where a facility's layout may not allow for proper social distancing or consider alternative commercial locations. It also includes a heavy reliance on virtual and teleconference proceedings.
Decline in new court filings.
New court filings also declined in the wake of COVID-19. According to a summary published by the National Center for State Courts (NCSC), an independent, non-profit clearinghouse for state court research and comparative data, new civil case filings declined by 41% in March and April 2020 from the comparable two-month period in 2019. Electronic weekly state court filings reported by Tyler Technologies, a leading public-sector software provider tracking courts and public safety, mirrored a similar decrease.
Many federal and state courts are continuing to embrace technology and holding virtual hearings, depositions, and settlement and status conferences to relieve the backlog of cases. While the U.S. Supreme Court did not permit video of its May 2020 oral arguments, it did allow a live audio. In fact, both the Southern District of New York and Eastern District of Virginia recently completed on-line intellectual property bench trials. Also in May, one Collin County Texas state court conducted a non-binding Zoom jury trial in connection with a hail and wind damage dispute between an insurer and policy holder.
Backlog of civil cases expected to continue.
Despite the benefits of technology, there are legal challenges to virtual jury selection and/or trials based on the constitutional right to confront witnesses, which may prevent a wider adoption of such an approach. The fact is, in-person examination of a witness is critical when determining credibility. As a result, many states are prioritizing criminal and deportation cases over civil matters. Thus, many civil plaintiffs are unlikely to see their cases litigated either virtually or in-person before a jury of their peers for quite some time.
Temporary pause in nuclear verdicts.
With the absence of civil jury trials since the start of the pandemic, there has been a pause in the number of run-away nuclear verdicts that have dominated the headlines over the past few years. While this is a welcome reprieve for corporations, we anticipate high verdicts will return as a challenge once courts resume in-person civil jury trials. Also, some opine that there is a willingness by some plaintiff firms to settle their civil claims for more reasonable dollar amounts than during pre-COVID claim cycles due to the courthouse backlog. While businesses continue to monitor the quantum and extent of any "COVID-19 settlement discount" on existing claim inventory, one thing is clear—until there is a COVID-19 vaccine, there will be a precipitous drop in the number of civil jury cases tried for the foreseeable future.
At Helmsman Management Services, we understand the challenges your business is up against because of COVID-19 and the potential impact on your daily operations as you begin to adjust to reopening guidelines. For reopening resources to help you stay informed and better manage the ongoing pandemic, visit our Coronavirus Guidance page.
This website is general in nature and is provided as a courtesy to you. Information is accurate to the best of Helmsman Management Services' knowledge, but companies and individuals should not rely on it to prevent and mitigate all risks as an explanation of coverage or benefits under a policy or service contract. Consult your professional advisor regarding your particular facts and circumstance. By citing external authorities or linking to other websites, Helmsman Management Services is not endorsing them.