Claims technology with people at the core - Helmsman
Claims technology with people at the core

Throughout the COVID-19 pandemic, technology has played an important role in helping manage claims and serve customers – safely from a distance. But focusing on technology is only part of the story. In a recent interview, Steve Deane, Helmsman's chief claims officer, got to the heart of successful technology implementation: people. After all, he says, "technology is only as good as the people who're responsible for using it."
Keeping injured workers connected during uncertain times
Many companies have implemented new technologies to keep business going and serve both employees and customers during the COVID era. But, according to Deane, these investments in technology are most effective when the goal is focused on helping people. When businesses start with a people-first mindset, they can make smarter, more impactful decisions around technology implementation that support the overall user experience.
One example is Helmsman's new injured worker portal, a system that makes the claims process simpler and more transparent for businesses and their employees. Though the technology aspect is "critical" to making the system work – especially during a pandemic – it is second to "putting the injured employee's well-being first and  identifying ways to reduce stress and anxiety that often comes with a work-related injury, so the worker can focus on recovery."
 "That mindset — of putting people at ease and focusing on recovery — is enabled by the technology of the portal," says Deane. "Rather than using highly technical language – essentially claims jargon — in our written and verbal communications, we're striving to help explain the process in ways that people who aren't workers comp experts can understand."
By focusing on its people-first mission when implementing this new portal, Helmsman was able to address common customer pain points and improve overall user experience. People were at the root of this decision; technology was just the right tool for the job.
Using online technology to assess property damage
Helping companies assess property damage during the COVID-19 pandemic is another way that Helmsman is using technology to ensure customers feel connected and supported. Deane explains, "…we introduced a virtual method of assessing property damage where customers can send images to our claims specialists and that speeds our claim estimating and adjustment." This new method is safer for agents and customers, but it also maintains a people-first culture by ensuring that a live claims specialist stays involved. Rather than replacing personal interactions with a digital interface, Helmsman's new system makes it easier and safer for agents and customers to connect.
Now more than ever, human contact is the glue that connects us – and technology, while a vital tool, cannot replace that. As Deane puts it, "at a time when there's so much chaos in the world around us, feeling part of something bigger is more important … than ever."
Empowering injured workers throughout their WC management
Injured worker advocacy in action.

At the core of every claim, there's a person. Advocating for injured workers helps employees heal properly and get back to their lives and jobs. It helps employers keep business humming as they control workers compensation costs. Caring comes first. See how an empathetic claims specialist made a difference for an employee facing COVID-19.
More Courts Embrace Virtual Technology Amid COVID-19
Learn how U.S. courts have been affected by the pandemic and how they are using technology to reopen and address the backlog of cases.

The COVID-19 pandemic continues to impact all parts of industry – including the U.S. court system. As the country begins to reopen and adjust to this "new normal," courts are continuing to use various virtual tools to address the growing backlog of cases put on hold due to the pandemic, and to safeguard public health. The following outlines how the courts have been affected by the pandemic and what steps they are taking to address new and ongoing business.
Jury trials suspended.
At the start of the pandemic in early March, state courts responded swiftly by issuing mandates that "non-essential, non-emergency" court operations be suspended. As of September 10, a third of the federal district courts have allowed jury trials to resume, making changes and implementing new policies to keep courtrooms safe. On the state and local level, many courthouses and court facilities have allowed some in-person juries to slowly resume, with most courts planning to continue to use a combination of virtual/remote and in-person proceedings in order to maintain public safety while allowing the justice system to get back to business. 
Court reopenings.
Since the start of the pandemic, the backlog of civil proceedings on cases filed before and during the period of COVID-19 continues to mount. As states begin to reopen, courts are exploring how to resume operations that include the issuance of jury summonses and the scheduling of in-person jury trials on a staggered court calendar. On June 11, under a phased expansion of operations order, in-person proceedings were no longer strictly limited to critical or emergency proceedings. Specifically, bench trials for criminal and civil proceedings have since resumed, along with trials of misdemeanors, traffic, and petty offenses.
Today, courts are implementing a number of safeguards as they reopen, such as mask wearing in all public areas in the courthouse/courtrooms and maintaining social distancing whenever possible. This has courts addressing how best to accommodate jurors where a facility's layout may not allow for proper social distancing or consider alternative commercial locations. It also includes a heavy reliance on virtual and teleconference proceedings.
Decline in new court filings.
New court filings also declined in the wake of COVID-19.  According to a summary published by the National Center for State Courts (NCSC), an independent, non-profit clearinghouse for state court research and comparative data, new civil case filings declined by 41% in March and April 2020 from the comparable two-month period in 2019. Electronic weekly state court filings reported by Tyler Technologies, a leading public-sector software provider tracking courts and public safety, mirrored a similar decrease. 
Leveraging technology.
Many federal and state courts are continuing to embrace technology and holding virtual hearings, depositions, and settlement and status conferences to relieve the backlog of cases. While the U.S. Supreme Court did not permit video of its May 2020 oral arguments, it did allow a live audio. In fact, both the Southern District of New York and Eastern District of Virginia recently completed on-line intellectual property bench trials. Also in May, one Collin County Texas state court conducted a non-binding Zoom jury trial in connection with a hail and wind damage dispute between an insurer and policy holder.
Backlog of civil cases expected to continue.
Despite the benefits of technology, there are legal challenges to virtual jury selection and/or trials based on the constitutional right to confront witnesses,  which may prevent a wider adoption of such an approach. The fact is, in-person examination of a witness is critical when determining credibility. As a result, many states are prioritizing criminal and deportation cases over civil matters. Thus, many civil plaintiffs are unlikely to see their cases litigated either virtually or in-person before a jury of their peers for quite some time.
Temporary pause in nuclear verdicts.
With the absence of civil jury trials since the start of the pandemic, there has been a pause in the number of run-away nuclear verdicts that have dominated the headlines over the past few years. While this is a welcome reprieve for corporations, we anticipate high verdicts will return as a challenge once courts resume in-person civil jury trials. Also, some opine that there is a willingness by some plaintiff firms to settle their civil claims for more reasonable dollar amounts than during pre-COVID claim cycles due to the courthouse backlog. While businesses continue to monitor the quantum and extent of any "COVID-19 settlement discount" on existing claim inventory, one thing is clear—until there is a COVID-19 vaccine, there will be a precipitous drop in the number of civil jury cases tried for the foreseeable future. 
At Helmsman Management Services, we understand the challenges your business is up against because of COVID-19 and the potential impact on your daily operations as you begin to adjust to reopening guidelines. For reopening resources to help you stay informed and better manage the ongoing pandemic, visit our Coronavirus Guidance page.
Pandemic-Related Employment Claims Expected to Increase as Businesses Reopen
Risk managers weigh-in on the top four employment-related claims facing businesses as they begin the reopening process.

Businesses all over the country are gearing up to meet COVID-19-related guidelines, while determining how to create a safe work environment for their employees and customers. But as they begin the reopening process, evidence shows that the potential exists for lawsuits and claims related to employment practices and wage and hour liability.
Here are four types of potential employment claims your business may be up against as you begin the reopening process, including feedback from claims and human resource professionals, risk managers and in-house attorneys.
Leave- and discrimination-related charges.
Leave-related complaints
Many employees grappling with the effects of COVID-19 are requesting time off from work. A covered employer who denies the requested leave, requests improper documentation, or retaliates against an employee for taking such leave may be subjecting themselves to potential exposure to a claim of violation of the Family and Medical Leave Act (FMLA), the Families First Coronavirus Response Act (FFCRA), or state-equivalent laws.
Discrimination-related charges
It is anticipated that employees perceived as "unhealthy" or "high risk" may be subject to disparate treatment, or conversely, may seek accommodations because they are fearful to return to work. As well, employees may seek leave for stress caused by the coronavirus that has adversely affected the employee's state of mind. In addition to discrimination based on disability, employers could face claims of discrimination based on national origin, race, or age in connection with the etiology of COVID-19.
Whistleblower retaliation
Driven by fear and uncertainty, employers have already seen a marked increase in complaints by employees about workplace safety, exposure to COVID-19, and adherence to local and state public health orders and/ or the Occupational Safety and Health Administration (OSHA) directives regarding social distancing, disinfecting workstations, and/or other decrees. Other whistleblower claims could arise based on improper execution of the FFCRA, and other employment protections under state and federal law.
Breach of employment contract
As companies scale down operations, many are faced with the inability to perform their obligations under employment contracts which set out specific terms, including dates of employment and compensation structure. Employers may find themselves in a litany of lawsuits filed by employees claiming breach of contract and other contract-related causes of action in connection with either termination of employment agreements or pay reductions that are contrary to the terms of the agreements.
WARN Act Violations
Under the federal WARN Act, a covered employer must provide advanced written notice to employees who may be subject to a plant closure or mass layoff, as defined under the law. Given the sudden and immediate impact of COVID-19 on businesses, employers are arguing that it is virtually impossible to provide the required 60-day notice under the federal mandate. We can expect to see litigation arise from violations of the federal WARN Act.
Wage- and hour-related claims
Timekeeping claims
Employers may have to contend with employee claims that employers failed to provide and/or pay for all required meal periods, rest breaks, and overtime for remote and on-site employees.
Reimbursement claims
As employees continue to work remotely, they will seek reimbursement for expenses incurred involving the use of their personal cellphone, electricity, internet usage, or other home office costs. Employers are advised to review company policies with respect to reimbursement and the relevant law in the employer's jurisdiction, and develop a strategic plan of action accordingly. Failure to do so will result in claims for failure to reimburse expenses, which may, in certain jurisdictions, entitle the employee to attorney's fees if the employee prevails on the cause of action.
3 empathetic approaches to WC claims management during COVID-19
Covering every angle to bring you the best claims experience.

As stay-at-home orders, social distancing, and remote work have become commonplace in response to the COVID-19 pandemic, many businesses have shifted operations to remain functional and help keep their employees safe. 
But for employees suffering from work-related injuries, in addition to grappling with the normal stressors of recovering from an injury, the pandemic has raised several other pressing concerns:
How will I get the care I need?
Will I be able to receive needed medication and treatments?
Will my benefits be impacted?
Will I fully recover from this injury?
Will I be able to return to my job at the end of this?
Amid today's unprecedented circumstances, supporting these employees so they can continue to receive care and focus on recovery is a key part of maintaining productivity and an engaged workforce.
Like our customers, we at Helmsman Management Services also shifted quickly so our claims teams could continue to be effective and injured workers would feel supported. Claims specialists have vital roles in helping to ease feelings of uncertainty, says Carolyn Turpin, vice president and regional manager for the West, Helmsman Management Services.
"It's critical to recognize that this kind of upheaval has been a highly sensitive area for injured workers," she says. "In order to ease worries and help workers through, it's imperative to emphasize that recovery is more than return-to-work – it's about their emotional well-being, too."
The ongoing COVID-19 pandemic highlights the importance of a robust injured-worker advocacy approach to workers compensation claims management. Here are three ways our advocacy efforts help drive positive outcomes for injured workers and customers.
1. Foster engagement and anticipate needs
In the beginning of the pandemic when there was a shift to working remotely, some injured workers worried about how interactions with claims specialists might change their experiences.
For example, most injured workers typically receive their claims payments by mail – a practice that could be disrupted due to the pandemic. At the onset of the pandemic, our claims specialists mitigated concerns by contacting injured workers to check-in, validate their circumstances, and present options available to them if needed, such as activating electronic payments or home prescription delivery, Turpin explains. That proactive outreach gave employees peace of mind that they could quickly receive their benefits without delay, while also helping them feel more positive toward their employers.
"Even if we weren't in the office, we wanted injured workers to know that they could get in touch with us and that necessary resources and options were available to them," Turpin says.
2. Prioritize worker well-being
Thinking outside the box about what might help an injured worker – both physically and emotionally – also takes on new meaning in today's situation.
As a result of COVID-19, many injured workers are managing more than their injuries and recoveries. "Some families are struggling to balance childcare and work. Others are home schooling or caring for ill loved ones," explains Turpin.
With the pandemic leaving more people feeling isolated and stressed, it's never been more critical to approach workplace injury-related absences with an empathetic point of view, Turpin says.
For claims specialists, this approach means putting workers' well-being first — by helping to curb feelings of unrest brought on by added stressors, simplifying procedures, and engaging in ways that are most convenient. Beyond phone calls and emails, web portals, educational videos, and other tools can help explain and expedite the process – and are available at the worker's own time and pace.


The takeaway: Every outreach should reassure injured workers that their claims and clinical teams are working in their best interests to prioritize their care and recovery, Turpin says.
3. Navigate care solutions
With many physicians, therapists, outpatient centers and hospitals limiting the number of patients they can see for routine appointments and non-emergency treatments, injured employees may face access-to-care issues. In lieu of in-person care, the use of telemedicine and tele-rehabilitation services is proving to be a valuable alternative to treat minor injuries and provide virtual physical therapy.  
While such technologies aren't new to workers compensation, the during the shutdown at the beginning of the pandemic dramatically spurred their use as a claims-management strategy. Our data shows, for example, that telemedicine visits increased 5,000% between March and May of this year.
"As part of the claims management process, it's vital for injured workers to continue their care and work towards recovery," says Turpin. "And telemedicine kept these critical services going during the pandemic."
Moving forward together
Investing the time and resources to promote injured worker advocacy gave our claims team the framework to continue to provide excellent care and deliver positive outcomes under tough circumstances. "We believe and see that when you treat injured workers with compassion and humanity, better results are achieved for the worker and the employer," Turpin said. The outcomes from the COVID-19 pandemic show that the injured worker advocacy strategy works and will continue to show results. To learn more, contact us today.
OneVoice: Encouraging a recovery partnership through inclusive language
Our commitment to excellence shines through.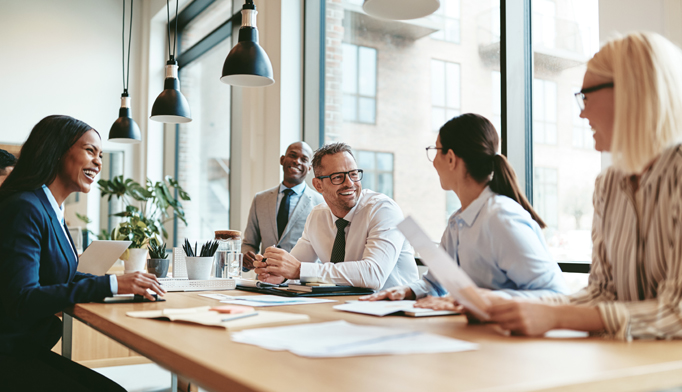 Ensuring that injured worker advocacy is a critical component of workers compensation claims management continues to be the cornerstone of our philosophy here at Helmsman. In managing more than 300,000 workers compensation claims per year, our team saw a great opportunity to improve and clarify the claims experience for injured workers and their employers through our new initiative, OneVoice.
With OneVoice, we've identified insurance jargon that might seem confusing or combative to an injured worker – language that could ultimately contribute to higher litigation rates, delayed returns to work, or prolonged treatments.
OneVoice aims to support injured workers by replacing jargon or complex language with inclusive, empathetic, and easy-to-understand terms that encourage a recovery partnership.
Bringing OneVoice to life for our claims professionals
But how do you bring an idea like this to life for 2,000 claims professionals? Through an all-hands-on-deck effort that included:
A 16-week phased rollout
An e-learning series of six videos, illustrating "what good looks like" for claims professionals
Steady communication from all levels of leadership, reinforcing OneVoice language and its benefits to injured workers and their employers
2,400 brief stand-up meetings that gave our teams the opportunity to share and practice key words and phrases
A 70-phrase online resource of the most frequently used phrases that could alienate an injured worker.
Through this program of e-learning, team discussions, and online resources, our claims professionals have enthusiastically embraced OneVoice, knowing they now have another valuable skill to help them connect and communicate with injured workers.
"Small changes in language resulted in big mindset changes, which improved recovery and return to work by more fully engaging injured workers," notes Wesley Hyatt, Senior Vice President, Workers Compensation Claims, Helmsman Management Services LLC. "The way you treat an injured worker — including the words and phrases you say — can have a material impact on the life of the claim. Plus, the workers compensation process can be scary and confusing for injured workers, who are naturally concerned about their health, recovery, and career."
These sentiments were echoed by many injured workers who remarked that the new communication style was reassuring and empathetic during a vulnerable time in their lives.
Ergonomics for working from home
Consider these ergonomic tips that help keep your remote workforce safer at home.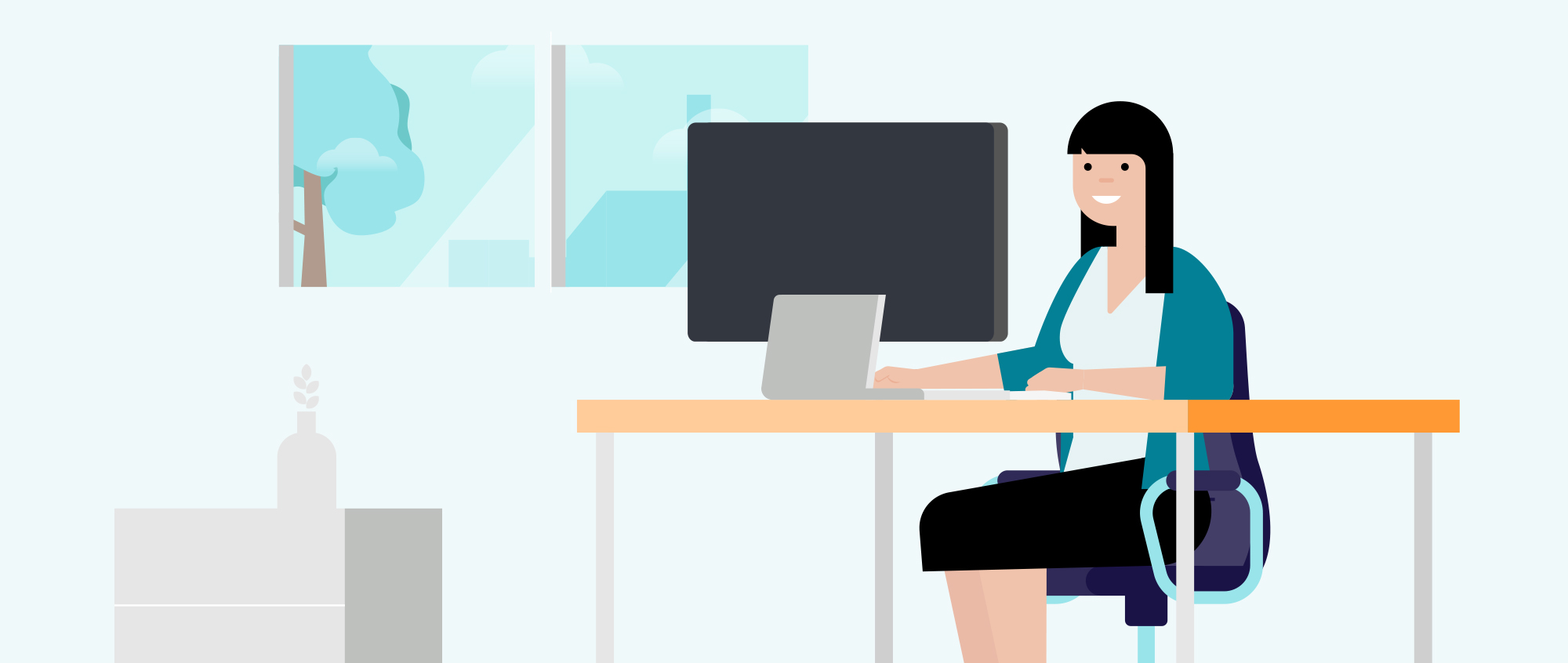 How is working from home working for you? 
Extended work from home has become the "new normal" for many companies. Families and individuals are navigating blurred boundaries between work and home, with unanticipated challenges and opportunities. This new reality necessitates new ergonomic tips that can help keep the remote workforce safer at home.
Ergonomics is a study of how humans interact of their surroundings, looking at full body posture, adjustability, and desk layout.
Are you setting up your home office? Check this resource for suggestions that will make your work environment comfortable and productive.
Neutral, relaxed body positions encourage low-force, low-repetition and minimal physical exertion while reducing strain on the body. Exaggerated positions may cause injuries and unnecessary exertion. 
Posture myths. 
Slouching only makes me look bad; it won't cause long-term damage.
For every inch that the head moves forward in posture, the weight of the head on the neck is increased by roughly 10 pounds, leading to muscle strain and possible spinal injuries.
Sitting up straight helps decrease pain.
Getting up at regular intervals is more important than perfect posture. We recommend that you take a break and move every hour while working at your desk.
What does good look like? 
Follow the 90/90/90 rule: have your knees, elbows and hips at 90-degree angles
Keep your computer monitor at arm's length
Position your keyboard so you would bend your wrists minimally or not at all
Keep your elbows and arms relaxed by your sides
As the current pandemic rapidly spread, many employees were not prepared to immediately switch to working from home. You may not have the perfect set-up, ergonomic furniture, or other resources that are readily available at the office. A few tips can help:
Take active breaks, stretch, go for a walk (try setting an alarm on your phone or work calendar)
Consider connecting your laptop to an external monitor or a TV
Adjust blinds and curtains in the room to help reduce screen glare
Use a hands-free headset when talking on the phone; avoid holding the phone between your ear and shoulder
Move your most used items to within arm's reach
Substitute pillows for seat cushions
Practice good sleep hygiene
If possible, create a dedicated workspace and routine, and follow a similar schedule on workdays
Stay hydrated
To remind yourself to take an active break, follow these simple tips while working at your desk:
Pull your shoulder blades together.
Chin tucks will help release neck tension.
To ease the strain on your eyes, follow the 20/20/20 rule: Every 20 minutes look up from your screen at an object 20 (or more) feet away, for 20 seconds.
Additionally, the CDC has created the Physical Activity Breaks for Workplace Resource Guide. Always consult your healthcare provider before beginning any exercise routine.
Ergonomic principles can make working remotely more manageable as you and your employees are able to stay on task while being comfortable and reducing the risk of injuries.
Coronavirus Disease 2019 (COVID-19): Protecting Your Workplace
General guidance for businesses on how to prepare for and respond to COVID-19

The following information is adapted from the CDC's interim guidance for businesses and employers on how to prepare and respond to COVID-19. 
Designate an individual or team to monitor the CDC site at least daily and take advantage of public briefings by the CDC. Additionally, it is important that you follow guidance from the individual state and local departments of health. Decisions that may impact workplaces will be coming from state and community leadership.
Consider the impact of COVID19 on your vendors and supply chain. Depending upon your organization, the disease's impact on business continuity may be more significant, remembering that your vendor supply chains may also be affected.
Review your sick-leave and time-off policies. Ensure leave policies are flexible and consistent with public health guidelines. Review the Family Medical Leave Act (FMLA) programs and Americans with Disabilities Act (ADA)/Equal Employment Opportunity Commission (EEOC) practices. While employees should disclose symptoms of COVID-19 to their manager and/or human resources, privacy and confidentiality of such information needs to be protected. Discussion and review of your practices with legal counsel is warranted
Review your travel policies. Consider limiting travel by employees. Abide by the CDC recommendation to eliminate travel to restricted areas.
Screen visitors and vendors. This includes travel within the last 14 days to impacted areas, including immediate household members; or symptoms of fever, cough, or illness. Talk with vendors and companies that provide services to your company about the importance of sick employees staying home.
Do not require employees to obtain physician notes to return to work. Do not require physician notes to return to work due to respiratory illness as this is causing unnecessary trips to medical facilities, which may further expose workers and take clinicians away from those most in need.
Arrange alternate work arrangements. Look for opportunities to do business in ways that don't require face-to-face contact. Recognize that many of your own customers will be developing policies to try and limit social interaction to reduce the spread of this virus.
Provide alcohol-based hand sanitizer stations throughout work areas. Have disinfectant wipes available in areas where surfaces may need to be wiped down.
Increase sanitation efforts. Increase cleaning and disinfection of the workplace, particularly in high-touch areas. Consider eliminating the use of refillable water stations and other open and unprotected food stations.
For other COVID-19 resources to help protect your workplace, employees, and customers please click here.
Your safety and well-being are our primary concern. These suggestions are general in nature, so please ensure that any activities you contemplate comply with all federal, state, and local COVID-19 orders impacting your facilities or operations as well as CDC guidelines for social distancing, hygiene, and other recommended best practices.
Our risk control services are advisory only. We assume no responsibility for: managing or controlling customer safety activities, implementing any recommended corrective measures, or identifying all potential hazards. No attempt has been made to interpret any referenced codes, standards, or regulations. Please refer to the appropriate government authority for interpretation or clarification.
Working From Home: Ergonomic Checklist
Ergonomic tips to maximize your comfort when computing from home.

1. Chair and posture
Use the backrest of the chair to provide full support to your lower back. 
Make sure your chair allows clearance behind your knees when seated against the backrest. 
Maintain proper body posture: 
Sit with your hips and knees at a 90-degree or greater angle. 
Keep your feet flat on the floor or on a footrest. 
Keep your arms relaxed at your sides, ideally with elbows at 70 – 135 degrees. 
Change posture frequently. Common postures include upright sitting, reclined sitting, and standing. 
2. Monitor
Place the monitor directly in front of you about an arm's length away. 
Position the top of the monitor screen at or below eye level. 
3. Keyboard and input devices
Adjust the keyboard or chair height to keep forearms, wrists, and hands in a straight line. 
Place mouse and other input devices near to and at the same height as your keyboard. 
Keep your elbows close to your body. 
4. Work area and lighting 
Allow ample clearance to move your knees and legs under the keyboard and desk. 
Avoid contact stress with edge of the desk and keyboard. 
To reduce glare and shadows on your work surface: 
Adjust window shades or decrease overhead lighting. 
Adjust the monitor screen or add an anti-glare filter. 
Add a task light to illuminate paper references. 
5. Accessories
Get a headset if you regularly talk on the phone for extended periods. Use a lowered voice. 
Use an adjustable document holder to: 
Place reference materials as close to the computer screen as possible. 
Keep materials at the same height and distance as your computer screen. 
Use your ergonomic accessories to support body posture (e.g. lumbar support, armrests, monitor blocks, external keyboard). 
6. Healthy computing habits
Use softer touch when keying and relax your grip on the mouse. 
Avoid working too long in one position. 
Change your body posture frequently. 
Take frequently breaks and stretch periodically. 
Give your eyes a visual break. 
Click here to download this checklist.
Your safety and well-being are our primary concern. These suggestions are general in nature, so please ensure that any activities you contemplate comply with all federal, state, and local COVID-19 orders impacting your facilities or operations as well as CDC guidelines for social distancing, hygiene, and other recommended best practices.
Our risk control services are advisory only. We assume no responsibility for: managing or controlling customer safety activities, implementing any recommended corrective measures, or identifying all potential hazards. No attempt has been made to interpret any referenced codes, standards, or regulations. Please refer to the appropriate government authority for interpretation or clarification.
4 Ways to Add Empathy and Advocacy to Workers Comp

A workplace injury does harm, not just to a person's body, but to their fundamental sense of security. Injured and out of work, an employee's suffering may be compounded by anxiety, one that may be unintentionally amplified by our traditionally opaque and task-oriented workers comp model. 
"Claims begin with an investigation, which right off the bat sets a negative tone," said Wesley Hyatt, Senior Vice President, Workers Compensation Claims, Helmsman Management Services. "In the traditional model where only the compensable injury matters, injured workers can often feel as though no one truly cares about their well-being."  
But there is a meaningful alternative: replacing antagonism with advocacy, rooted in genuine empathy for the injured. Although we may think of empathy as a subjective feeling, it can and should be a management objective achieved through deliberate action. 
Advocating for Empathy 
"We strongly believe that taking a more holistic and human approach produces better claim outcomes for both injured workers and their employers," said David Dwortz, President, Helmsman Management Services. 
Fulfilling a more empathetic approach, however, demands a different kind of management mindset. "The training can't just be about the technical and medical components. We must train people on how to build that empathetic connection. Developing those soft skills is an ongoing process," Hyatt said.  
In practice, a successful advocacy process begins with these four steps: 
Engage employers and employees.
Empathy, by definition, is personal, intimate, and direct. Employers can mitigate worker anxiety with manager compassion, beginning with the managers employees know best – the ones they directly work for and with.  
"Advocating for injured workers works best when the employer shares that same mission. For an injured worker, there's nothing quite like having their manager express their support and a desire to have them back to work as soon as possible," Dwortz said.  
Seek multiple ways to express empathy, from informal acts of kindness – such as "get-well-soon" cards – to formal recovery initiatives, such as counseling services and/or innovative opportunities: as an example of the latter, Helmsman sponsors volunteer efforts at local nonprofits as part of its return-to-work program. 
Go beyond tasks to anticipate needs.
Of course there are a number of procedures that must be fulfilled to streamline recovery. But when employers look beyond immediate need to anticipate looming concerns, they demonstrate a "pro-worker" attitude that is so much more than proforma. 
For example, when the Helmsman claims team learned that eight tornadoes had landed in May, 2019, they anticipated the consequences of the storms and helped workers in the tornadoes' paths access medicines, clinical care, and claims payments.  
"Our people took that initiative on their own—and that demonstrates a real shift in mindset. The focus first and foremost is on helping people. Most of the people we contacted were surprised and touched by the effort taken to make sure they were okay," said Hyatt. 
Prioritize convenience.
Calls, appointments, forms: these and many more procedural necessities can be experienced as bureaucratic nightmares by the very workers they are intended to help. 
"To make the claims experience as easy as possible for injured workers, we need to engage with them in ways that are most convenient for them. That means incorporating technologies that they want to use," said Dwortz. 
For Helmsman, that means explaining the complete workers comp process, "soup to nuts," with a personalized video message sent to each injured worker, available at their own time and pace.  
"We're also piloting a ride-sharing program to help injured workers get to their medical appointments," said Hyatt.  "They order the ride through an app on their smart phone just as they would for any other occasion and we cover the payment. Since the injured worker is using a familiar service, it's one less thing for them to worry about."
Speak their language. 
Workers comp has evolved a language of its own, one that may make perfect sense to risk professionals, but that can actually delay recovery by confusing workers.  
"Getting injured already adds a lot of stress to a person's life, and the workers comp process often makes it worse because it's so confusing to navigate. It's our obligation to make it as simple as possible, and we decided to start by explaining things in a way that injured workers can more easily understand," Hyatt said.  
After reviewing conversations between claims specialists and injured workers, Helmsman realized it could build worker confidence by simplifying claims vocabulary to be both more familiar and less intimidating. In Helmsman's model, claims rhetoric is replaced with "real" language, such as:  
"compensable" to

 "covered"

 

"electronic funds transfer" to

 "direct deposit"

 

"lost time" to

 "recovery"

 

"investigation" to

 "review"

 

"closed" to

 "resolved"
Be an Advocate For Advocacy 
In an environment where retaining skilled workers is at a premium, worker advocacy has never been more important.  
"There is a fight for talent. For businesses, there is strategic advantage in attracting and retaining top talent, and that includes those who have been injured on the job. Helping injured workers recover and return to work is more important than ever," said Dwortz.  
Today, advocacy remains a core Helmsman practice. "Advocacy has always been in our DNA, and now we're taking it to the next level," said Dwortz. "We are shifting the mindset from 'How do I get this claim closed?' to 'How do I help this person?' It's a rewarding journey for everyone involved in the process." 
This website is general in nature, and is provided as a courtesy to you. Information is accurate to the best of Helmsman's knowledge, but companies and individuals should not rely on it to prevent and mitigate all risks or as an explanation of coverage or benefits under an insurance policy. Consult your professional adviser regarding your particular facts and circumstance. By citing external authorities or linking to other websites, Helmsman is not endorsing them.
Tech with a Personalized Touch
Five ways that technology can help deliver a more compassionate workers comp claims management process. 

5 Ways to Humanize the Workers Comp Claim Experience with Technology 
Consider the worker behind a workers compensation claim. Too often, physical injuries may be compounded by emotional anxiety and even confusion as workers do their best to manage their way through a potentially long and stressful process. 
Few occasions demand more of a personal touch. Emerging technology enabled by today's widespread broadband connectivity may be the most promising way to deliver a more compassionate claims management process. 
"A newly sharpened focus on the injured worker and the increasing use of technology to identify trends and to simplify and expedite certain elements of the claims process are having a major impact on the management of workers compensation claims," says Wesley Hyatt, Senior Vice President, Workers Compensation Claims, Helmsman Management Services. 
Consider the following five ways that recent technological advances can help us address a familiar issue: accelerating recovery by careful attention to worker needs. 
Begin with bots. 
To the injured party, "waiting" means "worry." Anything the claims management team can do to accelerate and streamline the intake process automatically removes much of the initial anxiety that comes with claim submissions. 
Today, web robots or "bots" can reduce work for all parties involved, initiating the claims process digitally once a workers compensation claim is filed. Bot automation not only reduces intake time from hours to minutes, it liberates claim professionals from repetitive administrative tasks so that they can focus on more important, more personal interactions with injured workers. 
Reduce confusion with better communications. 
For most injured workers, the claims process is unwelcome – a new and unfamiliar world with few or no road maps for guidance. 
Adjusters can now provide guidance for the claims road ahead. Helmsman has developed SmartVideo, a program that creates a brief, personalized video for injured workers that explains: 
What to expect during the claims process

 

How to contact their claims

professional

 

Claim-specific details, such as their claim number, claims status, and payment information

 

Available resources, including pharmacy program information and how to look up medical providers
By communicating more effectively at the initiation of the claims professional-worker relationship, both parties can proceed on a common ground of knowledge and confidence. 
Make connections to coordinate care.
Once the relationship between the injured worker and the claims professional has been established, a variety of other parties – including doctors, facilities, pharmacies, and other care givers – must be integrated into the care coordination plan. 
Network coordination is always important, but during a crisis, such as a loss of power or transportation disruption, which can impede access to care, coordination becomes critical. By electronically connecting all parties, managers can build flexibility into recovery. Should access be denied in one area, coordination on a digital network can reassign treatments to available resources, or fulfill prescriptions from unaffected pharmacies, allowing progress to continue with minimal disruption. 
Fulfilling claim payments consistently.
A catastrophic event, such as a weather-related disaster, can not only interrupt the continuity of care, but delay or prohibit the distribution of compensation checks – exactly when the intended recipients need them the most. 
That's why some third-party administrators (TPAs) such as Helmsman are supplementing the usual delivery of checks by mail with electronic funds transfer (EFT). When a mail interruption is anticipated, administrators can switch from mail to EFT, allowing employees to receive the funds they urgently need without delay. "It's important," says Hyatt, "to partner with a TPA who works collaboratively with their individual legal teams to break down the barriers that could prevent employees from receiving their workers compensation checks – including on-boarding technology to know when to move individuals on EFT in a crisis." 
Preventing opioid abuse.
Although the healthcare industry has become more adept at intercepting potential opioid abuse, addiction remains a challenging concern. To address the problem, many TPAs are incorporating the U.S. Centers for Disease Control and Prevention (CDC) guidelines into their claims management programs. 
Technology complements claims professional training by automatically "flagging" behaviors that could indicate a contradiction to the CDC guidelines; an unsuitable prescription, for example, would trigger an alert, encouraging providers to discuss the situation in-depth and suggest more appropriate treatment alternatives. "Since implementing CDC guidelines," Hyatt says, "we have experienced a 9% reduction in patients being prescribed with opioids." 
It's About Doing the Right Thing at the Right Time
Technology is not a substitute for personal communications, but an important supplement that can save time, reduce anxiety, and accelerate recovery. Hyatt summarizes technology's role succinctly: "When it comes down to it, it's really about doing the right thing for the injured worker." 
This website is general in nature, and is provided as a courtesy to you. Information is accurate to the best of Helmsman's knowledge, but companies and individuals should not rely on it to prevent and mitigate all risks or as an explanation of coverage or benefits under an insurance policy. Consult your professional adviser regarding your particular facts and circumstance. By citing external authorities or linking to other websites, Helmsman is not endorsing them.
Managing Risks to Counter Growing Liability Losses

General trends in technology, outsourcing, and legal variables are often beyond any one enterprise's control, but careful attention to risk management and claims handling practices can mitigate the overall impact of liability exposures. 
As 2019 segues into a new decade, enterprises, third-party administrators, and insurers must monitor – and make potential accommodations for – the following trends. 
Jurors demand responsibility.
When liability issues land in the courtroom, another important perspective comes into play: that of the jury. Motivated by a deepening sense of social responsibility, many jurors hold businesses to high standards of accountability, expecting them to pay for an injured party's physical and non-physical damages. Therefore, juries are increasingly inclined to make more punitive and pain-and-suffering awards. 
Outsourcing complicates exposure. 
A tight labor market – particularly for auto drivers – has encouraged businesses to meet growth pressures with outsourced labor, expanding the "shared economy." But the increased distance between employee and employer has not deterred an increase in liability exposures. 
Consider the impact of an established e-commerce industry that depends on meeting consumer demands for near-instant gratification. To allow for rapid one-day or same-day shipping, businesses often reach beyond their in-house capacity to outsource delivery options that may include drivers operating their own vehicles. 
"That introduces a whole new element of risk," said Meg Sutton, Senior Vice President & Manager, US Casualty Claims. "Often companies will outsource thinking they've eliminated their auto exposure. But they may still be responsible for ensuring that a qualified driver is behind the wheel, even if it's not a company vehicle or your employee." 
Convenient technology complicates liability.
The same technology that promises less work can simultaneously make liability more complicated. In a semi-autonomous vehicle, an accident that once would have been attributed to the driver may now be assigned to multiple parties: the vehicle owner, the original equipment manufacturer, or the developer of the vehicle's software. 
Complexity grows as more companies automate the value chain through technologies such as 3-D printing, robotics, artificial intelligence, and others. As the chain expands, more parties contribute to (and are accountable for) the development, adoption, and outcomes of these automated processes. Given their complexity, anticipating consequences becomes more difficult, yet more urgent. To gain greater control of their liability exposure, Sutton insists, "Businesses should also consider how new technologies may affect the 'foreseeability' of incidents." 
Looking Ahead of the Risk Curve 
In this evolving landscape, companies are encouraged to reassess their risk mitigation strategies and claims handling procedures to be sure they are aligned with the new realities of general liability. It's critical to work with a third–party administrator that has the skills, experience, and expertise to help you assess your policies in light of changing technology.  
By addressing complex liabilities head on, businesses can signal to all parties involved, including potential jurors, the depth of their commitment to safety. 
This website is general in nature, and is provided as a courtesy to you. Information is accurate to the best of Helmsman's knowledge, but companies and individuals should not rely on it to prevent and mitigate all risks or as an explanation of coverage or benefits under an insurance policy. Consult your professional adviser regarding your particular facts and circumstance. By citing external authorities or linking to other websites, Helmsman is not endorsing them.